Modern Digital Switching from GripAce 
Used by top custom bike builders including Russell Mitchell / Excile Cycles, 
Jim Guiffra / AFT Customs and Hyevon Choppers
Russell Mitchell is reknown for his clean, simple, no nonsense look to all the custom bikes he builds at his shop Exile Cycles in North Hollywood, California. The patented GripAce™ System allows Russ to eliminate all the electrical switches on his bikes for the lights, horn, starter, turn signals. The Grip Ace module can even be custom coded so when 2 or more selected buttons are pushed, the bike's ignition is turned on, eliminating the need for a key.
The Exile bike below has the GripAce Button Pad mounted in the handlebar next to the grip.
Some Custom Builders hide the Button Pad under the gas tank or seat. Your choice of Button Pad loctions is unlimited.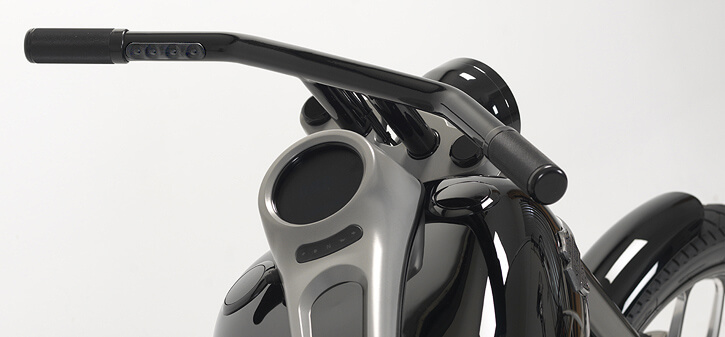 Above: This Russell Mitchell / ExileCycles.com customized Harley-Davidson has the GripAce button pad inset in the left handlebar for easy thumb operation.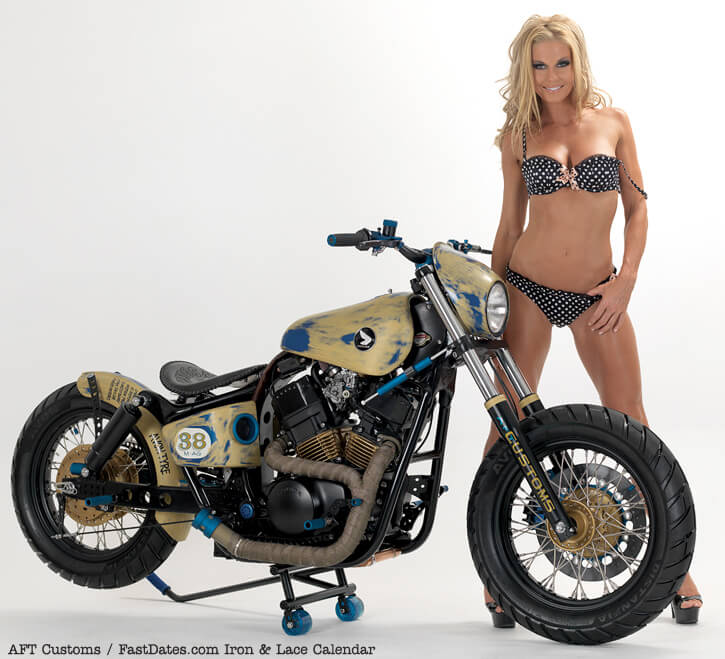 Above: This Jim Giuffra / AFTCustoms.com has the Grip Ace Pad installed in the left hand grip of his LA Calendar Motorcycle Showclass winning bike "Kimosabe" featured in the FasDates.com Iron & Lace Calendar.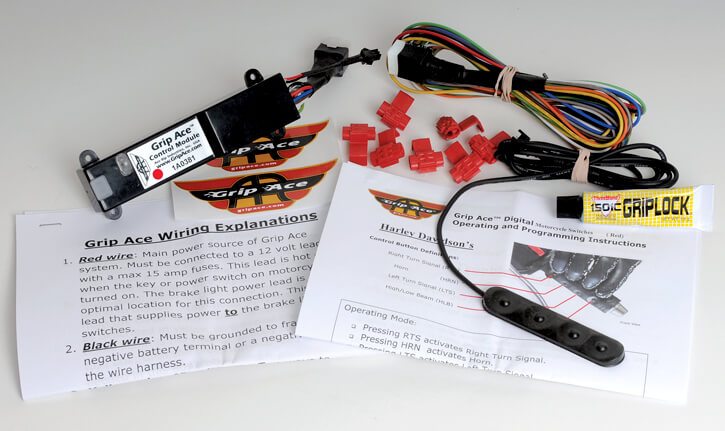 Grip Ace Universal Digital Motorcycle Switch Kits & Parts
The Grip Ace Univeral Kit includes everything needed for Custom and Production motorcycles applications. Now you can can have clean handlebars with all the necessary switches in one hand to be street legal. It can Control your Starter, Hi/Lo Headlights, Turn Signals, Hazards and Horn. Works on all motorcycles. Does not include handlebar grips. You will have to fabricate installation in your own grips, handlebars, or somewhere on your motorcycle. Instruction included. 
The Grip Ace Switch can be fitted into most grips. Cut a matching opening in your handlebar's Rubber Grip with an X-Acto type knife, then using the supplied Glue in the Grip Ace Kit, just glue the back of the digital switch pad to your metal handlebar behind the grip opening. For mounting inside a Metal Grip or Handlebar you will want to machine a location for it, or you can also send your custom Metal Grip or Handlebar to GripAce for exact precision machining. You can also hide the Grip Ace Switch Assembly anywhere on your bike, like under the gas tank.
Part No. GA-K-BC Universal "BLUE" Custom Program for Custom Motorcycles (call us)
Part No. GA-K-BST Universal "BLUE" Production Motorcycles with Non-Self Cancelling Turn Signals
Part No. GA-K-RHD Universal "RED" Production Motorcycles with Self Cancelling Turn Signals
Also available are Complete Grip Sets and Grip Ace Kits as shown below with the grips already modified for installation of the digital switch pad